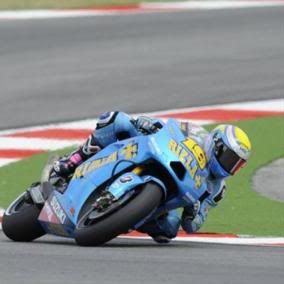 Álvaro Bautista was happy with his first day's work after changing weather conditions meant two totally different free practice sessions. After reach 14th position on the FP 1 (1'52.822), Bautista then reach 12th position with 2'05.170 on the FP 2. His to speed on the FP 1 was 315.1 Km/h and 311.3 on the wet FP 2 session.
After Colin Edwards dismiss Aragon race this weekend, Bautista was the Rizla Suzuki's sole representative at the Motorland Aragon Grand Prix in Spain. This Spaniard was the busiest rider of the day as he completed a total of 39 laps of the 5,078m track during the two sessions.
Álvaro Bautista:
"We had the opportunity to ride in both wet and dry conditions today and that was good because we were able to learn a lot about the track. This morning I used the softer option of tyres and at the beginning of the session they worked very well. It is a new track with new reference points so I had to try to push on without really knowing where I was going and I was able to learn the track – I felt good on the bike and the lap-times were pretty good as well. I made a stop in the middle of the session and carried on with the same tyres, but the rear was too soft and I was losing a lot of time from the exit of the corners – so I was unable to improve my lap-time. This was a good session for us though because it meant we learnt that we could not do a race distance with that type of tyre. This afternoon in the wet I just wanted to ride the track and find where the limit was. I rode very quietly and tried not to take too many risks and improve step-by-step. The lap-time was not very fast compared to other riders, but my feeling was good out there. I know I can improve the setting and performance in both wet and dry for tomorrow and I have a lot of confidence that we will make big steps over the weekend whatever the weather."
Paul Denning – Team Manager:
"We are all really impressed with the Aragon Motorland facility. The layout of the racetrack is very challenging and the organisation is second-to-none. There seems to be a real pride around the place and it certainly deserves a Grand Prix event.
"Everybody knows the story regarding Loris and it's a big disappointment for him not to be here – especially when it is through no fault of his own. That said Álvaro will be determined to wave the flag for Rizla Suzuki – and for his home fans – this weekend. It's been a solid, if not a spectacular start for him today. He's always more of a racer that a practice rider, so we have high hopes for him for the rest of the weekend."