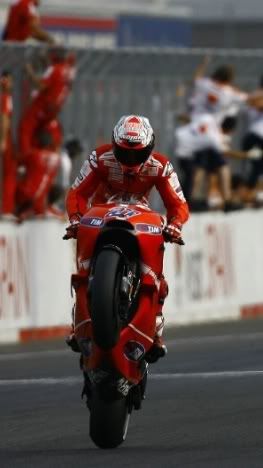 Casey Stoner set the fastest lap on 2nd free practice of Australian MotoGP series by 1.31.243. This record was wrote on 17th lap. Duo Yamaha Tech3 rider following Stoner on 2nd and 3rd. Both Colin Edwards and Ben Spies are 0.757 and 0.858 seconds behind Casey Stoner.
Jorge Lorenzo, the 2010 MotoGP champion, on 4th with 1.32.168, followed by Nicky Hayden, Andrea Dovizioso, Randy De Puniet, and Valentino Rossi. Dani Pedrosa still had a problem with his shoulder after surgery. Pedrosa best lap on this session was only 1.34.804, 3.561 second behind Casey Stoner best time.
After 1st free practice yesterday, Pedrosa wants to clearly recover from his injury. He told that he want to check his condition on the bike.
"The plan today was simply to check my condition on the bike – in these conditions I didn't want to take any unnecessary risks. What I can say is that I had some strength to move on the bike and put pressure on the handlebars which is good"
"However, I didn't feel very comfortable with the leathers because they were tight and there was pressure but even with that I could do some laps and tomorrow I will try again – we will go step-by-step. Now it's quite painful but we will see how the pain goes through the night and tomorrow we will take another step. We knew it wouldn't be easy but I just hope that the effort is worth it in the end."