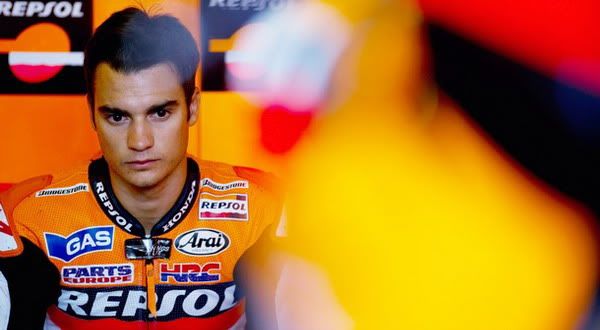 Dani Pedrosa will race next Sunday at Estoril. This Spaniard told that this track will be more easier for him that Phillip Island. With 9 right turns, Pedrosa shoulder left shoulder will endure less load. It means, he can race with less pain.
"We get back on track this weekend at Estoril and, in principle, the situation should be much better than it was for me in Australia," said the 25 year-old, who was forced to head home early from Phillip Island after the pain became too great to ride in the race. "The Estoril circuit is not as demanding as Phillip Island and this should help me to feel more comfortable on the bike. Plus I've had some more time to recover which should help too."
"This kind of injury needs time to heal and with two more weeks having passed I'm really looking forward to seeing how much the shoulder has improved. I went to visit the doctor last Tuesday to have the stitches removed, and the scar is fine. I've been doing some more rehabilitation on the muscles and I have some more strength, but I will not be able to fully judge how much difference there is until I get on the bike on Friday morning. Also, I think it can be positive for me that there will be two practice sessions on Friday again, as we had in Aragón."
Estoril is a track on which Pedrosa has enjoyed podium finishes in the past three seasons, and he is looking forward to taking the true test of how well he has recovered.
"In terms of the track layout, Estoril has some hard braking areas and it's bumpy, but the fact that it has more right hand corners than left can be good for us. So, I'm looking forward to getting there with my team and seeing how I feel," he concluded.