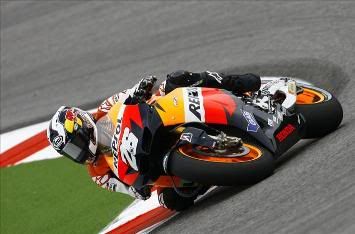 Dani Pedrosa will arrive at Phillip Island on Wednesday. This good news was clearly inform by Pedrosa after fully recovery from his collarbone injury. This Spaniard is ready to defend his second place on MotoGP 2010 from Valentino Rossi. Now Dani Pedrosa lead 47 points from Valentino Rossi (181 points) who wins last race at Sepang, Malaysia.
"I will arrive at Phillip Island on Wednesday to have some time to recover from the flight and rest a little bit. I know it will be tough because Phillip Island is a very demanding track and also the weather conditions can play a big part, but I really believe it's time to come back with my team and try to return to the high level of performance we had before the crash in Japan."
"The Championship is decided, but for us it's still not over. The target now is to retain second place in the standings and continue working on the bike so that we arrive in good shape for the winter tests, when we will start working for next year."
Pedrosa also extended his congratulations to Lorenzo after his rival's achievement.
"I think it's very good for Spain to have another World Champion in the top class after Alex Crivillé's first title back in 1999. That was a long time ago… too long. So I'd like to say congratulations to Lorenzo," said Pedrosa. "He rode very well this year right from the beginning of the season and made very few mistakes - so he deserves the title."
Pedrosa looks very confident for the race of this season and next season race.