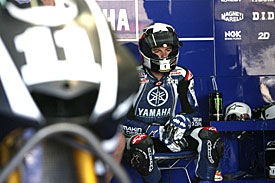 Yamaha
's new factory
MotoGP
signing Ben Spies says he wants to learn as much as possible from his world champion team-mate Jorge Lorenzo and is keen to work closely with the Spaniard.
There was little collaboration between Lorenzo and his former team-mate Valentino Rossi, but Spies said he had no qualms about seeking assistance from the 2010 title-winner.
"It's something I'm looking forward to doing because I'd like to learn from him," said Spies. "He's definitely rolling along right now, and there are some areas from what I've seen throughout the year I'd like to keep as they're my strong points, but also I need to improve.
"And there is some stuff that he does really well that you don't always just copy, but you can try to incorporate in what you've got.
"As a rider I need to improve, I know that. And we'll look to do that with comparing stuff from Jorge.
"We do have different styles, but I'm getting a little better at riding a GP bike and I've just got to push myself and get better in every way for next year. Maybe not huge gains, but I've got to get better."
Spies is unsure how much influence he will have on Yamaha's development next year - pointing out that he was still inexperienced in MotoGP terms compared to Lorenzo, and that while he now had a full season under his belt, that had been with the satellite Tech 3 team, which relied on the factory to provide upgrades.
"I'd like to think that on the development side I'm not bad, but also I don't have a tonne of experience on the MotoGP bike," said Spies.
"Now after having a year, we can tell the changes when we change stuff and things like that, but real development stuff we haven't had to do a whole lot - it was more just changing set-ups.
"I look forward to it - getting some new stuff, trying it and seeing where we go from there."