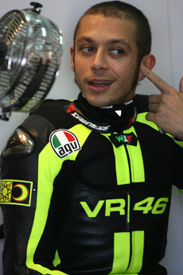 Valentino Rossi has revealed that his injured shoulder was in much worse condition than expected before surgery was carried out last weekend, but says it is now 'as good as new'.
The former champion struggled for much of the 2010 season due to pain from damage sustained in a Motocross crash in April, but he held off until after the championship and his first Ducati test were complete before undergoing the required operation.
Rossi is now recovering from the surgery, and said that he was in a lot of discomfort at present.
"I feel quite in pain, it hurts a lot, but it's normal in the days that follow surgery," he said in an interview with Italian TV programme
Striscia la Notizia
.
"I struggle to sleep, but the operation went well, everything is okay. Now my arm is tied to my neck, but the shoulder should get back to 100 per cent, so it's just a matter of time."
He explained that the severity of the injury had not become fully clear until he was in hospital.
"Unfortunately the shoulder was in a lot worse condition than we had expected, so the operation lasted twice as long as it should have," said Rossi, whose season was also disrupted by a broken leg.
"All the tendons and everything else that was believed to perhaps be slightly damaged, were in fact completely broken, so I have a new shoulder now.
"They've given me a new shoulder, I can't wait to test it!"